Our People: Jesse Persaud
Spotlights
5 September 2023
Kaleigh Habeck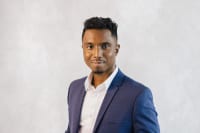 Jesse Persaud's story is a testament to the remarkable journeys that can unfold within the Global Edge Guyana family. Since joining the team in April 2022, Jesse's impact on the Global Edge office has been nothing short of extraordinary. Hailing from the offshore industry, Jesse's transition into the world of recruitment has been a journey marked by dedication, adaptability, and a genuine love for the oil and gas sector.
With approximately three to four years of offshore experience, including two years of physically demanding work as a roughneck in drilling, Jesse's expertise in the field is undeniable. His deep understanding of offshore operations provides a unique advantage when it comes to filling offshore roles. Whether directly handling these positions or offering valuable assistance to colleagues, Jesse's knowledge ensures that the right talent is matched with the right opportunities.
Georgetown, home to the Global Edge Guyana office, has recently emerged as a hotspot for offshore drilling, particularly due to the local presence of one of our premier clients. This focus on Guyana's offshore drilling aligns perfectly with Jesse's background and passion for the oil and gas industry. As he points out, everything in this region revolves around offshore drilling, making it a pivotal aspect of their work.
"In Guyana, we're witnessing a remarkable transformation in offshore oil and gas. It's like being part of history in the making, and I'm thrilled to contribute my expertise to this exciting journey."
In terms of recruitment, the Guyana office primarily focuses on the energy industry, including EPC (Engineering, Procurement, and Construction) roles. This expansion beyond oil and gas has exposed Jesse to a wide range of engineering positions, a territory previously uncharted for him. However, he approaches this new challenge with enthusiasm, recognizing the importance of continuous learning and adaptability in the ever-evolving world of recruitment.
"At the Global Edge Guyana, I've discovered the true value of continuous learning. Every day is a new opportunity to expand my skills and knowledge. It's not just a job; it's a journey of growth and personal development, and the Global Edge gives me the tools to take that journey."
Beyond his recruitment duties, Jesse actively engages in continuous learning and professional development. Being part of a small office provides a unique opportunity for team members to learn from one another. Almost everyone in the office is pursuing further studies, making learning a core aspect of their culture. Additionally, Abdool Azis, their Country Manager, ensures that the team participates in industry summits and toolbox talks, creating opportunities for skill enhancement and knowledge sharing.
Jesse's story highlights the significance of Global Edge's core values, especially excellence and fun. While striving for excellence in every aspect of his work, he recognizes the importance of enjoying the journey and having fun along the way. Jesse's commitment to doing what he loves and infusing it with excellence exemplifies the values that drive Global Edge.
Keep up with us on our website and social media channels like LinkedIn, Facebook, and Twitter to stay updated on more inspiring stories like Jesse's and discover how the Global Edge continues transforming lives and businesses in the energy industry through our Georgetown office.
Interested in joining our team? Click here to get started!