Global Edge Named Pinnacle Winner at 2023 BBB Awards for Excellence
Awards
17 October 2023
Kaleigh Habeck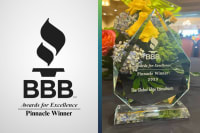 THE WOODLANDS, Texas, October 17, 2023 — The Global Edge Consultants achieved a remarkable feat by securing the highest award for their category at the 2023 BBB Awards of Excellence. At this notable event, they earned the title of Winners of Distinction and proudly seized the coveted title of Pinnacle Winner.
The Global Edge Consultants received exceptional recognition at the 2023 BBB Awards of Excellence on October 10, 2023. The well-known event, celebrated for its integrity and excellence, awarded them the prestigious honor of being recognized as a Pinnacle Winner, positioning them as one of the top businesses in the Houston region for 2023. This award is a testament to the Global Edge's dedication and high business standards.
The Global Edge CEO Kathy Eberwein acknowledged the BBB and her team, saying, "This award is not just a reflection of our success, it's a promise to our clients, candidates, and contractors that we will continue to uphold the highest standards of professionalism and service excellence." This is the organization's fourth year in a row being recognized at the BBB Awards for Excellence.
Winning the Pinnacle Award is significant in the current global business landscape, marked by unprecedented challenges. This accolade is a powerful symbol of the Global Edge's dedication to excellence, integrity, and a tireless pursuit of surpassing limits.
To learn more about our capabilities and services, visit our About Us page.
Interested in joining our team? Click here to get started!