Our People: Nicholas Reeves
Spotlights
7 November 2023
Kaleigh Habeck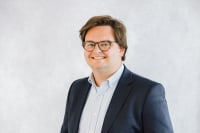 In the fast-paced world of recruitment, few individuals embody the spirit of adventure and adaptability as fervently as Nicholas Reeves, the Recruitment Lead at the Global Edge's Houston office. With a career that kicked off in May 2021, Nicholas has come a long way in a relatively short span. In this employee spotlight, we explore his incredible journey, his passion for the industry, and the transformative role he plays in shaping the Global Edge team.
Nicholas's career started with a whirlwind as he transitioned from graduation to the work world almost seamlessly. "I first started in May of 2021. It was exciting. I graduated on a Saturday and started right out on Monday and got put into intense training," he recalled. Despite the intensity, Nicholas reveled in the experience. The training was industry-specific and covered many topics, from industry training to the nuances of recruitment and the intricacies of customer service.
The extensive training was a stepping stone for Nicholas, allowing him to delve into the job roles that the Global Edge handles. He remarked, "There was a lot on jobs and the jobs we work on here at the Global Edge, and learning how to find the right people for those roles. It was a great training, especially fresh out of college."
Nicholas's journey at the Global Edge began with him being a rookie recruiter lacking any prior recruitment experience. However, his fearless dive into the role immediately after training has transformed him into a Recruitment Lead. This transition came with hard work, and Nicholas explains, "Coming in with no experience was a bit of a challenge, but I've learned that recruitment is one of those things where there are going to be mistakes and failures. You have to learn from those and not be afraid."
"Competence is crucial, but it's also about having confidence in your ability and skills."
As a Recruitment Lead, Nicholas has navigated a diverse landscape, working across various industries and roles. While his primary focus has been on project controls, he's also ventured into finance and other sectors. Nicholas remarked, "I've focused on finance and project controls, but I've also worked in HSE and even dipped my toes into international recruitment, learning about HR laws and practices in different countries."
Nicholas has excelled in building and maintaining networks, which is pivotal in his success as a recruiter. He spoke about treating every candidate as a potential placement and the significance of referrals. "Candidates who have had a positive experience with you can become your greatest advocates," he noted.
Nicholas loves the dynamism of his job. He finds excitement in filling roles with tight deadlines and minimal candidate availability. He emphasized that teamwork is at the core of successful recruitment. "It takes a village to place a contractor," he said, underscoring the importance of HR, contracts, and onboarding teams throughout the placement process.
Nicholas's role as a Recruitment Lead has given him new insights into servant leadership. He strives to be a source of support and guidance for his team, having experienced the same challenges as a junior recruiter not long ago. "I know the shoes and the position they're in. I remember what it's like to feel frustrated when recruitment gets tough," he explained.
As for what he loves most about recruitment, Nicholas finds the variety of challenges and the satisfaction of solving them each day incredibly rewarding. He relishes working with a diverse team and appreciates the support and mutual learning. He emphasized that recruitment is not just about the recruiter but a collaborative effort.
Nicholas's career journey from a fresh graduate to a Recruitment Lead exemplifies the possibilities and opportunities within the recruitment field. His passion for continuous growth, coupled with his commitment to building strong relationships, is a testament to his success. As he continues to thrive at the Global Edge, he remains dedicated to helping candidates and clients alike, exemplifying the core values of the organization.
Keep up with us on our website and social media channels like LinkedIn, Facebook, and Twitter to stay updated on more inspiring stories like Nicholas's and discover how the Global Edge continues transforming lives and businesses in the energy industry and beyond through our Houston office.
Interested in joining our team? Click here to get started!