Our People: Matthew Knight
Spotlights
4 October 2023
Kaleigh Habeck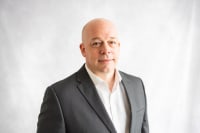 In the bustling world of international staffing, there are those who don't just thrive; they excel. Meet Matthew Knight, the International Key Account and Delivery Manager at our Global Edge Houston office. With over two decades of experience in the recruitment and staffing industry, Matthew is more than just a professional; he's a seasoned expert with a passion for connecting talent with opportunity.
Matthew's journey in staffing began over 22 years ago in the UK. Starting as a junior sourcer, he quickly climbed the ranks, moving from resource management to the coveted position of lead recruiter. His career was marked by diverse experiences in countries as far-ranging as Kazakhstan, Papua New Guinea, Indonesia, Malaysia, Brunei, Australia, and Azerbaijan. His primary focus? High-stakes staffing for energy, oil, and gas projects.
Matthew's expertise shines brightest in the realm of project oil and gas. His portfolio boasts monumental projects, some worth billions of dollars. Notably, he played a pivotal role in a project in Kazakhstan, where the initial $20 billion investment swelled to a staggering $60 billion. With a team of 70 staff and 2000 contractors at one point, Matthew left an indelible mark on the project's growth and development.
"In the world of recruitment and staffing, understanding different cultures is often the key to making the right connections."
One critical lesson Matthew has learned and continues to apply is adaptability. In the dynamic world of recruitment, no two days are alike. Being able to pivot and tackle diverse challenges with resilience and tenacity has been the cornerstone of his career. As a director, Matthew wears many hats, but one role he cherishes is that of a problem solver for clients. He takes pride in offering solutions that alleviate their pain points. His goal is simple: to be the go-to person for clients, a reliable source of support in their staffing endeavors.
"Whether it's finding the right talent or creating solutions, my passion lies in making our clients' lives easier."
Leading international teams brings unique challenges, from bridging cultural gaps to ensuring remote employees feel included. Matthew's approach hinges on inclusiveness and open communication. He recognizes the importance of engaging with each team member, regardless of geographical distance, to foster a strong sense of unity and purpose.
In parting, Matthew encourages everyone to step out of their comfort zones and explore the world. His own journey, filled with cultural diversity and challenges, has been the bedrock of his success. It's a testament to the invaluable experiences gained by embracing the unknown.
In the ever-evolving world of staffing, Matthew Knight stands as a beacon of adaptability, resilience, and expertise. His journey continues to inspire his team as he leads, and his dedication to connecting talent with opportunity remains unwavering.
Keep up with us on our website and social media channels like LinkedIn, Facebook, and Twitter to stay updated on more inspiring stories like Matthew's and discover how the Global Edge continues transforming lives and businesses in the energy industry and beyond through our Houston office.
Interested in joining our team? Click here to get started!