Our People: Ainur Kabysheva
Spotlights
20 September 2023
Kaleigh Habeck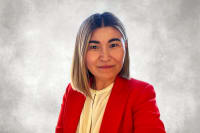 As the Accounts and Operations Specialist at our Global Edge Canada location, Ainur Kabysheva brings over 15 years of experience in the staffing industry to our team.
Ainur's journey in staffing began over a decade and a half ago, where she started in the logistics field. Over the years, she has worn many hats, from client development roles to being a leader in recruitment. Staffing became more than a profession – it became her world. While she briefly stepped out of the staffing role to join a major oil and gas company, it didn't take long for Ainur to realize her true passion lay in recruitment and connecting with people. She returned to the world of staffing with a newfound appreciation and enthusiasm.
Ainur's path led her to the Global Edge, where she found a unique blend of professionalism and camaraderie. One key aspect that sets Global Edge apart, according to Ainur, is its people. The team's willingness to go above and beyond to help each other, our clients, and our contractors is unparalleled. Ainur describes it as a distinctive DNA, something you either have or don't, and she says the Global Edge has it in abundance.
"At the Global Edge, it's not just a company; it's a community with a unique DNA. We share a genuine commitment to helping one another and our clients succeed, and that's what sets us apart."
For Ainur, the most cherished aspect of her role is onboarding new clients. She thrives on the excitement of bringing clients on board, forging connections, and being part of setting up seamless processes for successful collaborations.
Canada's diverse market offers immense opportunities beyond oil and gas. Ainur highlights the country's thriving information technology sector and its commitment to clean energy projects, which aligns with the Global Edge's mission to support environmentally conscious projects.
Ainur's proactive approach is evident in her efforts to explore collaborations with various clients. She's focused on strengthening our company's foothold in Canada while fostering social responsibility initiatives, particularly with Indigenous communities.
"By embracing initiatives that give back and support local communities, we not only make a positive impact but also inspire change, one action at a time."
As the Global Edge continues to grow, Ainur emphasizes the importance of retaining the close-knit, familial atmosphere that sets the Global Edge apart from other agencies. While expansion is on the horizon, Ainur believes it's crucial to preserve our unique culture and approach to client and contractor relationships.
Ainur Kabysheva's unwavering commitment to forging strong client and contractor relationships and fostering social responsibility makes her an invaluable member of both the Global Edge team and the communities she serves.
Keep up with us on our website and social media channels like LinkedIn, Facebook, and Twitter to stay updated on more inspiring stories like Ainur's and discover how the Global Edge continues transforming lives and businesses in the energy industry and beyond through our Vancouver office.
Interested in joining our team? Click here to get started!