Global Edge Expansion to Brazil
Insights
24 April 2023
Stephanie Taylor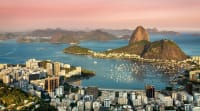 The Global Edge is excited to announce that due to our remarkable growth over the last 13 years, we are expanding! In fact, we are opening a new regional hub in Rio de Janeiro, Brazil.
Brazil is the new office opened by the Global Edge in South America, the first one being in Guyana. We are entering this new market bringing recruitment with the excellent value we perform worldwide and offering our full range of services. Our objective consists of enabling our reach into this market helping local and multinationals enterprises to conduct great recruitment and manpower services in the Oil and Gas sector.
The Brazilian oil and gas upstream market is expected to record a CAGR of over 4% in the forecast period of 2020-2025. Factors, such as the reduction in the cost of offshore drilling rigs and increasing exploration and production activities, are expected to drive the Brazilian oil and gas upstream market in the forecast period. The growth of the market in this sector will be followed by the need for more human capital and manpower to respond to the market's demands in this vast industry. The Global Edge is a company specialized in recruitment and manpower, passionate about people and their workforce, more than ever, we are excited and ready to respond to this demand, providing the market with excellence in human capital and resources.
This expansion is in direct correlation to the continued development of our recruitment teams as well as the exceptional business growth across the energy industry in Brazil.
The Global Edge in Brazil has extensive experience in manpower solutions.
Contact information for Brazil is below:
The Global Edge Brazil
Rua do Passeio, 38, Torre 2, 15º andar, Centro, Rio de Janeiro- Brasil
Tel + 55 21 992 606 210