Fourth Time Winner of Distinction: 2020 BBB Awards for Excellence
Awards
30 July 2020
Stephanie Taylor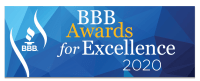 The Woodlands, Texas, July 30, 2020 – The Global Edge is thrilled to announce that we have been awarded a Winner of Distinction in the 2020 Better Business Bureau Awards for Excellence. The Better Business Bureau Education Foundation honors BBB Accredited Businesses that maintain a superior commitment to ethics, excellence, and quality in the workplace.
This is the 4th time that the Global Edge has been recognized as a Winner of Distinction in this awards category.
With excellence at the core of our values, we are so pleased to see our efforts rewarded. We are thrilled that the Global Edge brought home another award recognizing our top-notch service to our high-quality candidates and clients.
In recruitment, your people are your best asset, and we feel we have the best group of professionals in the global recruitment arena, which is a huge factor in our continued success with these awards.
Due to the current pandemic, the awards reception is no longer scheduled, but we are looking forward to the digital campaign that BBB will provide in early fall 2020.