The Regional Game-Changer: Temane Project Mozambique
Industry
16 June 2021
Stephanie Taylor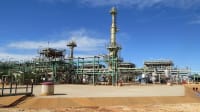 The Temane project is central to plans to connect Mozambique's disparate grid networks, anchoring the construction of a 563km 400kV single-circuit transmission line between Maputo and Vilanculos. The line is being financed by the World Bank Group, the Norwegian Trust Fund, African Development Bank, Islamic Development Bank, and OFID.
"Mozambique faces one of the lowest electrification rates in the world", DFC executive vice president for strategy Edward Burrier said. "This project will reduce the cost of electricity, increase power generation, and address a critical development challenge for the people of Mozambique".
The technical solution for the project has also been finalized. Through a competitive procurement process, the Spanish contractor, TSK, has been selected to design and construct the power plant and will use Siemens gas turbines. Temane is the third project OFID has co-financed in Africa, sponsored by Globeleq.
"The Temane initiative is an absolute regional game-changer", Globeleq chief executive Mike Scholey said. "It will ensure a reliable and affordable power supply – crucial elements for economic and social development."
The goal is to supply to Electricidade de Moçambique (EDM) through a 25-year tolling agreement. The project is in line with the Government of Mozambique's Energia para todos (Electricity for all) goal to provide electricity access to all citizens by 2030. It is also expected to have a highly positive developmental impact on Mozambique and the broader Southern Africa region:
Deliver power to an underserved area in Mozambique
Create local jobs
Link Mozambique's national energy grid
Increase access to energy, not just in Mozambique but throughout southern Africa