Our People: Internship 2023
Spotlights
27 July 2023
Kaleigh Habeck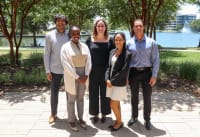 At the Global Edge, the arrival of our very first class of interns has made company history. Our company established a pilot internship program built to provide recent & upcoming graduates with professional development skills. Introducing new employees is more than just a formality; it's an opportunity to celebrate new ideas and diversity. Our interns bring a dynamic range of skills and passions, enriching our workplace and contributing to our success.
Asia Ashon, our social media intern, captivates audiences with her creative marketing prowess. In contrast, IT intern Ali Allahwala showcases his technical expertise in problem-solving. Our HR interns Kara Davis, Juliana Lopez, and Stormy Sailer each bring their unique perspectives and dedication to fostering an inclusive work environment. Together, they all exemplify the spirit of collaboration and growth at the Global Edge.
Education
Each intern contributes to our team with their exceptional skills and diverse backgrounds. As we turn to the education of all interns, it's essential to recognize the variety of backgrounds and academic specialties that each one brings to the team. Asia Ashon, our social media and marketing intern, attends the University of Houston and majors in Marketing and Business Administration. Alongside her is Ali Allahwala, our IT intern from Texas A&M University, who helps to ensure the smooth functioning of our technical systems using skills learned in his Management Information Systems (MIS) and cybersecurity education.
Kara Davis, one of our HR interns and a recent graduate from Colorado State University, contributes her expertise in supply chain management to the department while gaining a further understanding of the logistics behind human resources in the recruitment field. Complementing her is Juliana Lopez, an HR intern with us majoring in community health at the University of Oklahoma, whose fresh perspective brings a renewed vitality to our HR team. Finally, Stormy Sailer, another HR intern from Texas A&M University, majors in Business Administration and exemplifies resilience and adaptability. Our interns' dedication to their personal education endeavors forms the foundation of our values, exemplifying our unwavering commitment to the pursuit of excellence.
Internship Roles and Responsibilities
Asia Ashon and Ali Allahwala contribute their skills and talents to the company's growth and success within our marketing and IT department. Asia's enthusiasm and creativity shine through as our social media intern. She is crucial in supporting our strategic social media marketing and PR initiatives. Asia skillfully navigates different social media platforms, assists with content creation, and actively participates in nominations that showcase the company's values. On the other hand, Ali, our IT intern, brings his technical skills to the forefront, assisting internal employees with their technical issues through the help desk. Asia and Ali exemplify Global Edge's commitment to fostering talent, creativity, and innovation among the marketing and IT department.
Kara Davis, Juliana Lopez, and Stormy Sailer, our HR interns, bring their passion for human resources and a wealth of skills to their roles. Kara's expertise shines as she participates in various projects, such as assisting with streamlining contractor worker compensation codes. Her adaptability and willingness to contribute across different areas make her an asset to the HR team. Similarly, Juliana provides valuable support to HR managers by assisting with employee onboarding and benefits by digitizing shared company files. Her willingness to help others extends beyond her core tasks, exemplifying her team-oriented approach and adaptability. Lastly, Stormy plays a crucial role in ensuring the company's HR processes run smoothly by helping to verify I-9 forms and assisting with other company needs. His attention to detail highlights his commitment to supporting our HR team. Kara, Juliana, and Stormy have done fantastic work within their roles and have helped to enrich the HR department with their diverse perspectives and skills.
What Interns Enjoy about the Global Edge
Working with the Global Edge has been an enriching and fulfilling experience for each intern. One aspect they all cherish is the warm and welcoming atmosphere created by the staff. From their first week, they were greeted with open arms and a genuine friendliness that made them feel immediately at home. The team's willingness to embrace them as new members and eagerness to share their knowledge and expertise has been incredibly inspiring.
"My favorite thing about the Global Edge is the people…I believe everyone's very friendly and inclusive. I really like the environment here." – Kara Davis
Feeling valued and appreciated, they all enjoy being part of a community where everyone is approachable and respected. Additionally, engaging in conversations with their colleagues and learning from their diverse perspectives has been a gratifying experience that has broadened their horizons. Moreover, The Global Edge's commitment to fostering diversity and creating an inclusive work environment stands out as a source of pride for the interns. Collaborating with colleagues from different ethnic backgrounds and interacting with individuals from various cultural heritages has provided them with an eye-opening experience that has deepened their appreciation for global diversity.
"My favorite thing about the Global Edge is the different ethnic backgrounds here and the different cultures within this company. This is my first time getting hands-on experience speaking with people from around the world, all of whom are within our office. That alone blew my mind." – Asia Ashon.
As their internships with the Global Edge come to a close, they are grateful for the sense of belonging and camaraderie that enriched their workdays, making their internship truly rewarding, unique, and memorable.
Outside of the Office
In their free time, the Global Edge interns revel in diverse activities that reflect their unique interests and passions. Asia's love for shopping adds a touch of vibrancy to her personality. At the same time, her cherished companion, her dog named Kandy, fills her life with joy. Ali thrives in the world of basketball during summers, participating in tournaments, and enjoys the social aspect of his role as a server at a local Tex-Mex restaurant chain, where he connects with new people.
Kara finds solace and excitement outside work through family bonding, snowboarding adventures, and diving into a good book. Juliana also shares a passion for reading and rejuvenates by swimming in her backyard. Stormy values the companionship of friends and maintains an active lifestyle with frequent workouts, accompanied by quality time with his dog at the park. These enriching pursuits beyond their internships embody their vibrant spirits and reflect their dedication to savoring life's diverse pleasures while contributing their unique talents to the Global Edge.
To learn more about potential roles within the Global Edge Group and how to join our team, visit www.globaledgegroup.com/careers.