Our People: António Manjate
Spotlights
21 November 2023
Eusoria Marta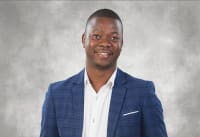 The process of identifying, attracting, interviewing, selecting, hiring, and onboarding employees can be challenging but when it's one's passion, the process can bring joy and fulfillment. As a Recruitment Specialist in our Global Edge Mozambique office, Antonio Manjate has proven that when it is one's passion, no process can be challenging.
Antonio's journey in recruitment goes back to 2015, when he joined a previous employer and began his career as a Recruitment Specialist.
"My journey began in 2015, in an HR Consultancy firm. The initial goal was to complete a 6-month internship researching and evaluating curriculums for junior positions based on the terms required. During that period, I also did market and industry studies using different types of platforms for research. As I progressed, I fell in love with the sector, and my skills began to stand out until I acquired the experience that I still have today."
Antonio joined Global Edge as a Recruitment Specialist during a time of transition in our Mozambican office. This challenge brought him the knowledge to mold his expertise in recruitment in the LNG and Energy sector.
"The comprehensive training sessions and the supportive work environment that welcomed me were vital to getting me where I am today."
From initial contact, screening, and background checks, to hiring and onboarding candidates, Antonio did it all when he took on the challenge to join Global Edge. Today, his day-to-day depends mainly on the type of position her is focusing on. He is passionate about matching the right candidate to the right opening provided by our clients.
Antonio has a special appreciation for the Global Edge training program and believes they have had a huge impact on his growth as a professional and as a person. From learning about the Global Edge recruitment process and the type of industry we work in, to learning how to excel in soft skills and be a great team member, he believes it has all been important as he strives for excellence in his role as Recruiter.
Working with people daily is not an easy task, but Antonio highlighted the importance of having empathy, being a good communicator, and having passion if someone aspires to be a Recruiter.
Passion in recruitment isn't Antonio's only aspiration. He also aspires to be a great member of his team and keep alive the vivid team spirit, essential qualities present at the Global Edge.
"It is amazing to be part of the team, to support each other. And, honestly, we have a good team spirit. We help each other with our tasks, and we get involved, so it has been fun to be part of this family."
Keep up with us on our website and social media channels like LinkedIn, Facebook, and Twitter to stay updated on more inspiring stories and discover how Global Edge continues transforming lives and businesses in the energy industry and beyond through our Mozambique Office.
Interested in joining our team? Click here to get started!