Unlocking the Potential and Implications of Mozambique's Oil and Gas Industry
Insights
25 May 2023
Eusoria Marta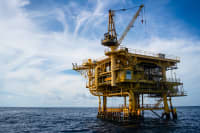 Mozambique, located in south-eastern Africa, has substantial oil and gas resources discovered years ago. The country's oil and gas industry has had some significant developments in recent years, particularly in offshore natural gas discoveries.
The natural gas reserves, Mozambique's offshore Rovuma Basin is known to contain substantial natural gas reserves.
The basin is home to the Mozambique LNG (Liquified Natural Gas) project, which is one of the largest LNG developments in the whole of Africa.
Several international oil and gas companies including ExxonMobil, Eni and TotalEnergies, are involved in the exploration and development of these reserves. When considering the ongoing conflict in Europe, Mozambique LNG's global importance has notably increased.
The Mozambique LNG project is a major undertaking aimed at extracting natural gas from the Rovuma Basin and processing it into LNG for export.
The project involves the construction of onshore gas liquefaction facilities in Cabo Delgado Province. It was expected a capacity of 12.88 million metric tons per annum when the project began its first phase, now the numbers are yet to be confirmed as well and its resumption after being paused since April 2021 due to insecurity.
The project is set to transform Mozambique into a significant player among other giants in the global LNG market.
Besides the Rovuma Basin, there are other offshore areas in Mozambique that have attracted exploration interest. Companies like ExxonMobil and Sasol have been involved in drilling and seismic surveys in these regions. The Government of Mozambique has also been actively promoting further exploration and inviting foreign investment in the sector.
Mozambique LNG Economic Impact
The development of Mozambique's oil and gas industry is expected to have a transformative effect on the country's economy once the project is resumed.
The gas discoveries have the potential to generate substantial revenue through exports and continue to contribute to job creation and infrastructure development in the country. The government aims to leverage these resources to promote economic diversification and reduce poverty in Mozambican society.
As to environmental and social considerations, the development of the oil and gas industry in Mozambique raises environmental and social concerns as it directly impacts nature and its habitats.
The projects must address further issues such as environmental conservation, local community engagement, and the mitigation of potential negative impacts on ecosystems and livelihoods in the near future. The government and industry stakeholders have a responsibility to ensure that the industry's growth is sustainable and benefits all stakeholders.
Well-documented environmental and social concerns associated with the project require all stakeholders (including the Government of Mozambique) to ensure that these key factors are constantly addressed through sustainable initiatives and programs that ensure the local population reaps tangible benefits from the explorations.
In turn, this will serve to address a number of root causes for which the conflict, which led to the cessation of the project, began. Socio-economic development within the Province and the provision of sustainable opportunities for local communities are critical for the success of Mozambique LNG and will significantly determine the industry's growth