Global Edge is Three-Time Recruitment Agency of the Year Winner
Awards
29 March 2018
Stephanie Taylor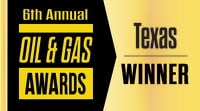 Global Edge wins its 3rd Recruitment Agency of the Year Award!
The Global Edge Consultants added another trophy to our award case this year when we won the 2018 Recruitment Agency of the Year at the Texas Oil & Gas Awards. The awards gala was held on March 7th in Houston, Texas, and gathered some of the region's most influential players in the industry.
Global Edge's philosophy relies on high-quality service and outstanding client commitment. Strong relationships with top-of-the-line candidates as well as trust and integrity are some of the most vital elements that characterize the services provided by our firm. A vast network of contacts worldwide, an extensive database of talents, and a solid experience in the technical recruitment field are key factors behind our success.
The Oil & Gas Awards reward excellence and best practices in 25 categories. It is one of the most recognized awards in Canada and the United States oil and gas industry. The U.S. is divided into three regions, with Texas being one of them. The awards promote advances, excellence, innovation, and corporate responsibility in the upstream, midstream, and downstream segments of the industry, and the Recruitment Agency category recognizes third-party recruitment and workforce services under the assumption that efficient and suitable recruitment helps firms to focus on their core business and strengthens their productivity and performance.
The Global Edge was nominated several times and won the 2014 and 2015 Oil & Gas Awards editions. Other recognitions include the Better Business Bureau Award of Excellence in 2016 and 2017 and the BABC Business Award of 2015. Also, in 2015, our company was listed among the 50 fastest-growing female-owned businesses, according to the Women Presidents' Organization.