The Global Edge Named a 2021 Diversity-Owned Staffing Firm by SIA
Awards
20 April 2023
Stephanie Taylor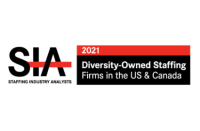 The Global Edge Consultants is named a 2021 Diversity-Owned Staffing Firm by Staffing Industry Analysts (SIA), a global advisor on staffing and workforce solutions. This year's list includes 151 firms from the US and Canada that self-identify as being under diversity ownership.
As a woman-owned company, The Global Edge stands by its belief that diversity in leadership and business contributed to the success the company sees in the recruitment and staffing industry. Diversity businesses like The Global Edge bring a higher level of innovation, creativity, and flexibility to the table to stand out among our competitors.
"We are excited to be listed by SIA for a second year as a Diversity-Owned Staffing Firm," said Kathy Eberwein, Founder and CEO of The Global Edge. "The Global Edge is committed to excellence and one of the ways we stand by that commitment is through our diversity initiatives from the top down."
The Global Edge Consultants is an award-winning provider of job recruitment and related services to the oil and gas industry. Our company serves the unique recruitment needs of our business clientele within the highly competitive oil and gas industry. We specialize in screening qualified candidates for positions within various industries. This includes oil and gas, rail, infrastructure, government, and IT.
If you are interested in joining The Global Edge team, take a look at our current job openings, or connect with a member of our recruitment team.