The State of Oil and Gas in Louisiana
Industry
31 July 2023
Kaleigh Habeck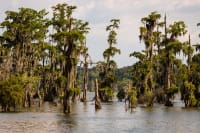 The Pelican State is one of the most influential energy generation areas within the continental United States. According to EIA, Louisiana currently ranks third in natural gas production and fifth in natural gas reserves across all 50 states. Despite being third, the state is no small player. In 2022, Louisiana shipped 63% of the nation's LNG exports, placing it as one of the oil and gas industry leaders. With abundant natural resources, a robust infrastructure, and a long-standing exploration and production history, the state has cemented itself as a vital player in meeting the nation's energy demands.
Reserves & diverse energy resources
Louisiana's energy resources are bountiful, both onshore and offshore. The state boasts vast offshore oil reserves in the Gulf of Mexico. Onshore reserves extend across numerous parishes, including Caddo, Bossier, Lafourche, Terrebonne, and more. Apart from oil, Louisiana is a significant producer of natural gas. The state's shale gas resources have become increasingly important due to advancements in hydraulic fracturing technology. The Haynesville Shale, located in north Louisiana, is one of the largest and most productive shale gas fields in the U.S.
Louisiana has been considering its role in the global energy transition like many other states and regions. The state faces increasing pressure to reduce carbon emissions and embrace cleaner and more sustainable energy sources. As a result, there are ongoing efforts to invest in renewable energy projects, energy efficiency initiatives, and CCUS technologies.
Offshore drilling & exploration
Louisiana's offshore drilling takes place primarily in the Gulf of Mexico, where numerous oil and gas platforms and drilling rigs are located. The Gulf of Mexico's offshore waters are rich in hydrocarbon resources, and oil and gas exploration activities have been ongoing for several decades. In addition to shallow-water drilling, Louisiana has seen substantial activity in deepwater exploration in the Gulf of Mexico. Multiple big-name players in the oil and gas industry have raced to dominate Louisiana's space in the Gulf of Mexico due to the promise of deepwater oil success driven by worldwide oil demand. The most recent data shows there are currently 51 rigs belonging to Louisiana, including onshore and offshore federal and state rigs.
Ongoing LNG projects
The production of LNG in Louisiana plays a pivotal role in stimulating economic growth. The sector provides substantial employment opportunities for the local workforce, ranging from skilled labor in drilling operations to specialized engineers and scientists. Additionally, the industry's economic contributions extend beyond direct employment, with a vast network of supporting industries such as transportation, manufacturing, and hospitality benefiting from its presence. LNG projects like Commonwealth LNG, Calcasieu Pass LNG, and Lake Charles LNG are concrete evidence that liquefaction and exportation aren't slowing down any time soon.
Lake Charles LNG, owned by Energy Transfer LP, is intended to develop a liquefaction and export terminal in Lake Charles, Louisiana with a planned capacity of up to 16.45 MTPA. Though the project is still awaiting further regulatory approvals, significant progress has been made throughout the duration of the project, solidifying Lake Charles LNG as a promising liquefaction project slated to be one of the more impactful projects in the state.
Job creation
In Louisiana, the oil and gas industry directly employs a substantial number of workers in various roles, such as:
Engineers: Petroleum, drilling, and process engineers are involved in designing and optimizing oil and gas operations.
Field Workers: These include drilling crews, well operators, production technicians, and maintenance personnel who work at well sites and production facilities.
Refinery Workers: Refinery employees work as refining operators, process technicians, and maintenance technicians.
Transportation Workers: Truck drivers, pipeline operators, and maritime workers transport oil and gas across the state and other regions.
Beyond direct employment, Louisiana's oil and gas industry generates jobs indirectly in related sectors. This includes industries that provide goods and services to support oil and gas operations, such as:
Equipment Suppliers: Companies that manufacture and supply drilling equipment, pumps, valves, and other essential components.
Service Providers: Businesses offering well services, logistics, waste management, and other specialized services to the industry.
Hospitality: Increased economic activity in oil and gas often leads to higher demand for hotels, restaurants, and other hospitality services.
Construction: Building and maintaining oil and gas infrastructure requires construction workers and contractors.
The Global Edge is present in Louisiana and ready to guide you into the next chapter of your career in oil and gas projects within the Pelican State. Visit us online at www.globaledgegroup.com/candidates/roles