Doing the Right Thing: Business Ethics & the Global Edge
Culture
24 April 2023
Stephanie Taylor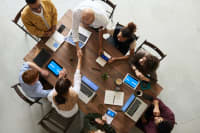 The Global Edge has been experiencing exponential growth, which could be attributed to its strong ethical foundation and unwavering commitment to doing the right thing. During an all-US staff meeting held at the Global Edge headquarters in The Woodlands, TX, at the end of April, Kathy Eberwein, Chief Executive Officer, hosted a segment on this topic.
As the organization continues to grow and expand, reviewing and to reinforce the corporate values interwoven into the Global Edge's business operations is essential. The meeting left attendees feeling energized and inspired, surrounded by a team of exceptionally talented recruiting and business professionals who share a passion for delivering excellence to clients and candidates.
At the Global Edge, honest, respectful, fair, and high-integrity searches are paramount to every client and candidate interaction. The company takes pride in its commitment to "doing the right thing," This philosophy is the foundation of trust and transparency in all business transactions.
The Global Edge is proud to be an organization that upholds such high standards and values. The opportunity to restate the importance of "doing the right thing" as the core philosophy of the company's business operations is welcomed and embraced.