Our People: Amanda Hutchinson
Spotlights
21 August 2023
Kaleigh Habeck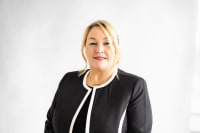 Embarking on a journey that bridges empathy and excellence, Amanda Hutchinson has etched her name into the heart of Global Edge's Contractor Care. Beyond the confines of a title, Amanda embodies a commitment that resonates with both colleagues and contractors alike. Her narrative is one of transformation, of transcending the traditional boundaries of a role to create a concierge-level experience for every contractor. With her, the words "contractor care" cease to be mere industry terminology; they become a testament to genuine human connection.
Hailing from Glasgow, Scotland, Amanda brought with her a wealth of recruitment experience, honed in the oil and gas sector and through her tenure at another staffing agency. Thanks to an internal recommendation, a remarkable twist of fate brought her to Global Edge. Amanda vividly recalls her colleague's persistent invitation to join, which initially didn't align with her plans. Yet, destiny took an intriguing turn. When Amanda commenced her journey at Global Edge, her colleague's proposal had transformed into working closely with Kathy Eberwein, our Founder and Chief Executive Officer, in managing contractor care – a crucial component of our company's commitment to providing unparalleled service to our contractors.
As Amanda embarked on her role as Contractor Care Manager, she embraced Kathy's vision for a concierge service – a level of support and commitment that goes beyond conventional expectations. The core of this service was to ensure a seamless, human experience for contractors. Fueled by her empathy, Amanda dedicated herself to this vision, stepping into the shoes of those she serves. She understood the importance of proactive engagement, addressing contractors' needs before they even realized them.
"Our commitment is to create a human-centered experience that anticipates needs, fosters connections, and makes every contractor feel valued and supported throughout their journey."
With her roster of responsibilities steadily growing, Amanda has been instrumental in managing the diverse needs of several hundred contractors, a number that has nearly doubled since her arrival. The role encompasses acting as a one-stop shop for various contractor needs, including travel coordination, payroll assistance, and overall support throughout their journey with Global Edge. Amanda's proactive and personalized approach has earned her tremendous respect among the contractors. They appreciate the sense of belonging she fosters through regular check-ins and events, making them feel like an integral part of the Global Edge family.
Recognizing the potential for greater impact and guided by her innate desire to connect with contractors on a personal level, Amanda's role has evolved. Kathy's strategic vision inspired her to transition into a role that involves extensive travel building face-to-face relationships with contractors across diverse locations. Poised for action, Amanda will elevate Contractor Care to new heights, guaranteeing that every contractor, whether in Houston or halfway around the world, feels valued and supported.
In a little over a year, Amanda's growth trajectory has been astounding. From Contractor Care Specialist to Contractor Care Manager, and now a travel-oriented role with global reach, Amanda's journey is a testament to her adaptability, dedication, and the nurturing environment Global Edge provides. Her commitment to communication, proactive problem-solving, and human-centric engagement epitomizes our organization's ethos.
"The Global Edge team isn't just a group of colleagues; we're a family dedicated to making a difference. It's the way we come together, share ideas, and support each other that makes us truly fantastic. Our hearts drive our work, and that's what sets us apart."
As Amanda reflects on her journey, she emphasizes the vital role of the Global Edge team, united by a shared goal of creating a harmonious workplace where everyone can thrive. Kathy's leadership, Amanda notes, is both awe-inspiring and motivational, setting an example for everyone to follow. Amanda's story encapsulates the essence of Global Edge – a place where growth, care, and dedication converge to create an environment that truly feels like a second home.
At the Global Edge, our contractors are our family. The Global Edge Contractor Care Program has been established to emphasize the trust and integrity that has been established in our relationships with our contractors. Employee care has been at the forefront of Global Edge since our inception. Concierge-level service, global mobility, and loyalty rewards and recognition are at the heart of our program. To learn more about how we serve our candidates and contractors, visit www.globaledgegroup.com/candidates.