Diversity & Inclusion Luncheon with WEN Houston
Culture, Insights
22 August 2019
Stephanie Taylor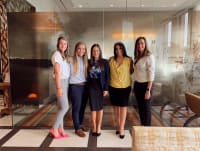 Yesterday, August 21, 2019, five members of the Global Edge team attended the Women's Energy Network Houston (WEN) Luncheon. The luncheon included a well-informed panel with the topic of discussion being "Diversity and Inclusion".
The Global Edge is a top diversity supplier, and being a woman-owned business, we truly appreciate and encourage diversity and inclusion. Our team was enthusiastic about the opportunity to learn more about the topic and have the chance to network with industry experts.
The panel included four speakers in the energy industry from various backgrounds and cultures: Kristan Crapps, Arquella Hargrove, Joanne Howard, and Mark Zorbas. All four brought their knowledge and first-hand experience about diversity and inclusion and how it is necessary for a business to maximize its potential.
Not only is diversity and inclusion necessary to provide creativity and new ideas, but it is also a lead factor in a successful company.
Arquelle Hargrove expressed this well when she stated, "Diverse companies out-perform non-diverse companies by 35%".
The panel continued their discussion by discussing how diversity and inclusion are not accomplished in one meeting but created by making it a company value. "It needs to be the same standard as safety," explained Kristan Crapps.
All four speakers highlighted how although there have been great strides in promoting diversity within businesses, there is still room to grow.
"Women are only 22% of the C-suite workforce," Mark Zorbas told us.
The Global Edge is proud to highlight that our CEO, Kathy Eberwein, is a part of that 22% but recognizes the need for that number to grow. Inclusion and diversity with gender, race, culture, and ethnicity will only provide companies with a greater ability to maximize their potential and growth.
The Global Edge encourages diversity and inclusion and understands how vital it is to any business. Being a global woman-owned business, we understand that diversity and inclusion only enhance big ideas and create a stronger team resulting in better results. We are an equal opportunity employer and strive to promote excellence through our diversity initiatives.