Our People: Vivianne Borges
Spotlights
7 August 2023
Kaleigh Habeck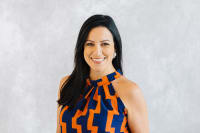 Hailing from Brazil, Vivianne Borges started her tenure with us in the spring of 2022, bringing with her a decade of invaluable experience as a recruiter. In the recruitment and talent acquisition world, Vivianne's story is a testament to the power of perseverance and the allure of new opportunities. Vivianne's path to joining our international team in Rio de Janeiro was filled with determination, hope, and a little serendipity. Today, she is a crucial asset to our team, adding her unique expertise to the dynamic world of recruitment and global talent sourcing.
Vivianne's expertise as a recruiter was honed over eight years of dedicated work in her previous role. Specializing in offshore and onshore positions, she was crucial in sourcing and selecting top talent for her former role. Her commitment to the job was unwavering, but she knew she needed a change to continue growing professionally. The pursuit eventually led her to apply for a position at Global Edge. Undeterred by countless hurdles, she persisted and reapplied in February 2020. Her perseverance paid off as she received a message that changed her life.
With a mix of excitement and trepidation, Vivianne underwent interviews with the Global Edge team. She impressed everyone with her passion, adaptability, and genuine interest in the position and our organization. Soon after, her dream of working at our Rio de Janeiro, Brazil office became a reality, beginning an exhilarating adventure.
Initially, Vivianne transitioned into the role of Recruitment Specialist under the guidance of a nurturing supervisor, rapidly learning the ins and outs of recruitment. However, with a change in leadership, she found herself stepping into an interim role, shouldering new responsibilities. Despite the challenges, she embraced the opportunity to grow even further and make a significant impact. Her wealth of experience as a recruiter became an invaluable asset to our company. Her keen eye for talent and ability to understand the unique requirements of various positions proved to be crucial in serving our clients. As she transitioned into her new role, Vivianne actively collaborated with her colleagues, sharing insights and best practices to foster a culture of continuous learning.
"One thing that has driven most of my success so far is learned resilience and persistence. Having those skills that I've learned over the course of my time here at the Global Edge, I've become a stronger recruiter."
As part of the Global Edge team, Vivianne has been instrumental in catering to the demands of our esteemed clients within the oil and gas industry. She spends most of her time working diligently to source the best talent for international positions in locations like Mozambique, Brazil, and the Middle East.
Vivianne has exemplified adaptability and resourcefulness by navigating the uncharted waters of sourcing candidates for regions where she had little to no connections, successfully turning candidates to contractors with prowess. With each passing week, she continues to build valuable connections and expertise, expanding her network of potential candidates.
When asked about her experience working with Global Edge, Vivianne expressed her deep appreciation for the support and camaraderie within the team. Despite the geographical distance, she highlights the seamless communication and collaborative spirit that permeates our company culture.
"The team's genuine kindness and support make it a joy to collaborate and grow together. I'm proud to be part of such a compassionate and talented team."
Looking ahead, Vivianne is eager to witness both her personal and Global Edge's growth. Her journey is a testament to the potential for individuals to flourish in a dynamic and empowering work environment. As she continues to thrive as a recruiter with us, we are confident that her passion and dedication will continue to elevate the Global Edge to new heights.
We are proud to have Vivianne as a valuable member of the Global Edge family in our Rio de Janeiro office. Her dedication, resilience, and passion for excellence continue to elevate our company and inspire us all. As we move forward together, embracing new opportunities and overcoming challenges, Vivianne's story remains a shining example of the potential within each of us.
Keep up with us on our website and social media channels like LinkedIn, Facebook, and Twitter to stay updated on more inspiring stories like Vivianne's and discover how the Global Edge continues transforming lives and businesses in the energy industry through our Rio de Janeiro office.
Interested in joining our team? Click here to get started!