Global Edge Launches New Sustainability Initiative to Celebrate Earth Month
News
3 April 2023
Kaleigh Habeck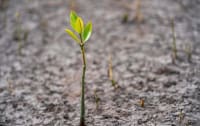 THE WOODLANDS, Texas, April 3, 2023 – The Global Edge Consultants, a leading recruitment firm, announced today the launch of a new sustainability initiative in honor of Earth Month. The Global Edge is deeply committed to promoting sustainability and positively impacting the planet. Through this new initiative, the company aims to contribute to restoring ecosystems and preserving biodiversity by planting trees for every new follower gained on their LinkedIn page.
"We believe that sustainability is a collective effort and are dedicated to inspiring others to take action towards a more environmentally conscious future," said Kathy Eberwein, CEO of The Global Edge Consultants. "We are excited to launch this new initiative and encourage everyone to join us in creating a better world by following our LinkedIn page and helping us plant more trees."
The Global Edge Consultants has partnered with OurForest.io, a leading provider of reforestation solutions, to ensure that each tree is planted with care and attention to its long-term health and growth. The initiative is aimed at offsetting the company's carbon footprint and creating a positive and long-lasting impact on the environment.
The initiative will run throughout Earth Month, from April 1st to April 30th, and anyone who follows The Global Edge Consultant's LinkedIn page during this time period is contributing to their cause. The company hopes to plant thousands of trees through this initiative and make a significant contribution to the restoration of ecosystems and the preservation of biodiversity.
To learn more about the initiative and how to participate, visit our OurForest.io page and follow our LinkedIn page today.