Global Edge Celebrates 2021 with Employee Awards Ceremony
Awards
23 November 2022
Stephanie Taylor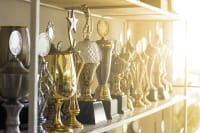 In late January, the Global Edge Consultants celebrated the 2021 year during the annual Global Edge Awards. Held every January, the Global Edge Awards is an opportunity for the team to recognize and commemorate the great work that went into the previous year and gear up for the year to come.
Throughout the evening, CEO Kathy Eberwein also recognized employees who reached monumental achievements in the past year. Angie Perez, Payroll Administrator, and Darren Smith, Business Director, were recognized for celebrating their 10-year anniversaries with the Global Edge. Additionally, Eberwein recognized Darren Smith, Jason Hitchen, and Kara Keenan for their incredible leadership in 2021 and their advancement into the Business Director position in early January.
The Global Edge recognized ten individuals for their hard work and dedication in 2021. Based on nominations from their colleagues and Key Performance Indicators, the 12 awards showcase only a fraction of the commitment to excellence from the entire Global Edge team.
The awards recipients include
Rookie of the Year, Support Team – Seth Baker, IT Systems Administrator
Rookie of the Year, Delivery Team – David Pearson, Recruitment Specialist
Most Engaged Award – Nate Albrecht, Marketing Technology Specialist
Award of Excellence – Tina Spitzenberger, Contracts Administrator
Award of Innovation – Stephanie Taylor, Digital Marketing Manager
Cornerstone Award – Beverly Mitchell, Assistant Controller
Global Edge Ambassador – Darren Smith, Business Director
Performer of the Year – Monica Fugate, Recruitment Specialist
Recruiter of the Year – Melissa Duarte, Recruitment Specialist
Account Manager of the Year – Kara Keenan, Business Director
Business Development of the Year – Darren Smith, Business Director
Top Gun Award – Kara Keenan, Business Director
Toward the end of the evening, the leadership announced the 2021 Delivery Team trip winners. These winners exceeded their gross profit goal in 2021 and will have the opportunity to spend several days in Key West, Florida, celebrating their achievements.
Winners include
Melissa Duarte, Recruitment Specialist
David Pearson, Recruitment Specialist